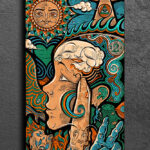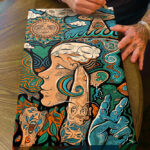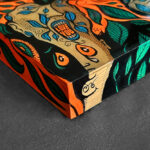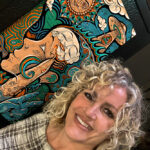 Baby I'm a Queen Original Painting
Original Painting – Sold.
Acrylic on Wood Panel, 12″ x 24″ x 2″, 2022.
Also available as a Print or Framed Canvas Reproduction.
This Artwork is included in the Narratives Collection.
Baby I'm a Queen
I created this piece by using the Surrealist practice of Pareidolia. I create without judgement as I find inspiration from the patterns I discover in the organic shapes of the woodgrain on the wood panels I use. I crafted this original painting using a mix Amsterdam heavy acrylic paint on wood panel and topped it off with a coat of gorgeous art resin.
Artist Inspiration
I was inspired by my beautiful muse, Dawn. She is my queen. This piece started as a playful woodgrain narrative, and transformed into a surreal stream-of-consciousness exploration honoring a very important person in my life. The piece references the recent insanity of the UAP disclosure by our government. The release of this information can be very unsettling to some. But the Queen chooses love over fear. Be the Queen.
The original was gifted to the Queen herself, but limited edition prints and derivatives are available.
Free Worldwide Shipping on all purchases.
All major credit cards accepted.

Note: State taxes will be calculated during check out.
All original artwork is hand signed, dated, with the edition number 01 of 01, and comes with a dated and signed certificate of authenticity. Each piece has a UV-protective hand-painted archival gloss applied.
Acrylic on Wood Panel – 1.5 inches deep, with bumper corners and hanging hardware included, ready to hang.

We accept all major credit cards for payment.
We offer Free Worldwide Shipping on all purchases.