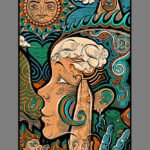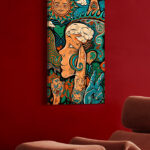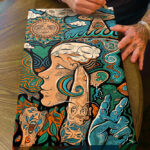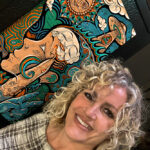 Reproduction of Original Painting
12″ x 18″ – 32″ x 48″, 2022. Fine Art Print or Framed Canvas.
View the Original Painting.
This Artwork is included in the Narrative Collection.

Baby I'm a Queen
I created this piece by using the Surrealist practice of Pareidolia. I create without judgement as I find inspiration from the patterns I discover in the organic shapes of the actual woodgrain on the wood panels I use. This piece started as a playful woodgrain narrative, and transformed into a surreal stream-of-consciousness exploration honoring a very important person in my life.
Artist Inspiration
I crafted the original painting using a mix Amsterdam heavy acrylic paint on wood panel, fine tipped acrylic paint pens, and topped it off with gorgeous art resin. I was inspired by my beautiful muse, Dawn. She is a my queen. The original was gifted to the Queen herself, but limited edition prints of this piece are still available.
Free Worldwide Shipping on all purchases.
All major credit cards accepted.
Note: State taxes will be calculated during check out.
All artwork is hand signed, dated, with the edition number, and comes with a dated and signed certificate of authenticity.
Fine Art Prints – We use premium archival giclée pigments printed on metallic Lux paper stock.
Framed Canvas – 2" deep Black Float frame, with bumper corners and hanging hardware.