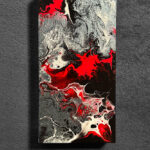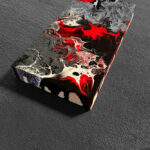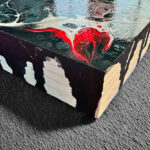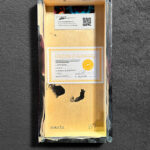 Cosmos Abstract #01 Original Painting
Original Painting
Acrylic on Wood Panel, 6″ x 12″ x 1.5″, 2022.
Also available as a Print or Framed Canvas Reproduction.
This Artwork is included in the Cosmos Collection.
Explore the Cosmos Collection
The Cosmos Collection offers a glimpse into the chaos and beauty that lies within black holes, star clusters, distant galaxies, and far away nebula. I am fascinated by the singularity, the fabled center of a black hole. This where Time and Space are warped beyond recognition.
Artist Inspiration
I crafted this painting using a mix Amsterdam heavy acrylic paint and Australian Floetrol. Every time I create a new abstract piece, I think of the vastness of the universe. These original abstract paintings are appropriately named The Cosmos Collection.
The unknowable expanse of the Cosmos provides inspiration for my abstractions. The concept of the infinite tickles my brain, captivates my thoughts, and infuses my paintings with wonder and discovery.
Free Worldwide Shipping on all purchases.
All major credit cards accepted.

Note: State taxes will be calculated during check out.
All original artwork is hand signed, dated, with the edition number 01 of 01, and comes with a dated and signed certificate of authenticity. Each piece has a UV-protective hand-painted archival gloss applied.
Acrylic on Wood Panel – 1.5 inches deep, with bumper corners and hanging hardware included, ready to hang.

We accept all major credit cards for payment.
We offer Free Worldwide Shipping on all purchases.