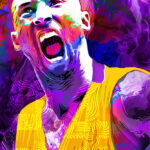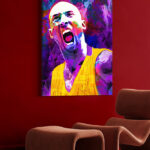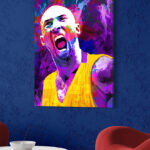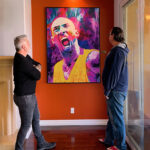 Kobe Bryant Mamba Mentality
Digital Painting Reproduction
12″ x 18″ – 32″ x 48″, 2021. Fine Art Print or Framed Canvas.
This Artwork is included in the Legends Collection.
The Story of the great Kobe Bryant
This piece honors the late great basketball legend and inspirational human being Kobe Bryant. "Hero's come and go, but Legends Never Die." Look closely and you can see the words LEGENDS NEVER DIE written in the mouth of Kobe on this piece. Kobe describes Mamba Mentality the following way: "Be better today than you were yesterday." RIP Kobe, you will always be one of the greats.
Artist Inspiration
I crafted this piece after a friend of mine requested I create a tribute to the inspirational legend that was Kobe Bryant. At the following link you can watch the full Kobe Bryant Art Commission video.
Free Worldwide shipping on all purchases.
All major credit cards accepted.
Note: State taxes will be calculated during check out.
All artwork is hand signed, dated, with the edition number, and comes with a dated and signed certificate of authenticity.
Fine Art Prints – We use premium archival giclée pigments printed on metallic Lux paper stock.
Framed Canvas – 2" deep Black Float frame, with bumper corners and hanging hardware.